Put away the turkey and bring out the mistletoe and stockings, it's almost Black Friday. The day after Thanksgiving and the official beginning of Christmas celebrations. What better way to celebrate Christmas early than by watching Home Alone for the 100th time? Nothing brings out Christmas joy like watching an 8 year old, who was forgotten by his parents at home during the holidays, create extremely original and inventive DIY deadly traps to fend off home invaders. While entertaining, there are much simpler and arguably more efficient and affordable ways young Macaulay Culkin could have deterred his clumsy bandits. Since it's almost America's favorite shopping holiday, here are a few alternatives we would suggest from Home Alone for the ultimate 2017 Black Friday Home Security list.
Front Door

Notoriously inventive and surprisingly intelligent for his age, Culkin's character Kevin, manages to prevent one of the burglars from entering his home by heating the front door knob to such an extreme temperature that it actually branded his hand. Although using an electric BBQ lighter to make a door handle incandescent seems like an awesome idea, we suggest just locking it instead. You could even take it a step further by installing a smart lock. The August Smart Lock Pro offers DoorSense which allows you to see if your door is open or closed and lock or unlock it from either your smart phone or simply telling your Alexa. The August Smart Lock Pro is currently on sale for $249.99 at Best Buy, saving $30 from the original price. Although this option may not burn your intruder, you can prevent his entrance from your bedroom without the possible risk of burning the house down.
Windows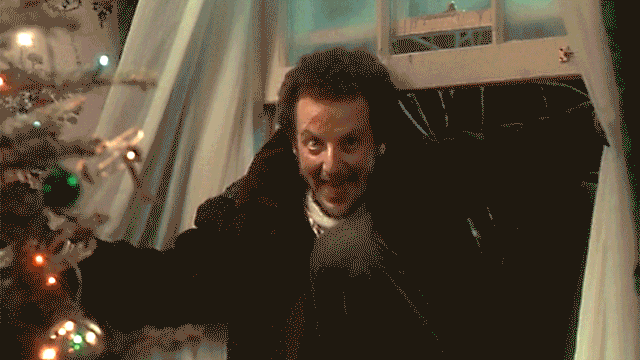 While it may just be a family movie from the early '90s, Home Alone managed to portray a few accuracies about home invasion. When it comes to breaking into a house, other than the front door, the burglar is most likely to enter through a first floor window. After the first unlucky bandit was branded by a door knob, the second chose to enter the home through an unlocked window. Nothing can be as simple as it seems in Kevin's house of horror however as the burglar stepped barefoot onto glass Christmas ornaments. At this point one has to wonder if little Kevin is trying to protect his home or just enjoys torturing these clueless men. For anyone interested in actually protecting their home, there is a much simpler solution; lock your windows. Even better than just locking the windows, you can install window sensors. The Samsung SmartThings Multipurpose Sensor is perfect for sending alerts directly to your phone if someone tries to open your window and is easy to install. The Samsung Sensor is currently on sale at Best Buy for $19.99, saving $20 from the original price. I have a feeling Kevin's mom spent more money on those Christmas ornaments.
Motion Detection

Once the burglars managed to make it inside the house, more terror awaited them. With perfect ingenuity and seamless orchestration, Kevin calmly waited at the top of the stairs with a full paint bucket in hand that was tied to a rope. At just the right moment of the bandits climbing the stairs, Kevin released his paint bucket death trap as it hit the burglars in the face, knocking them back to the first floor. While somewhat effective in the movie, we highly recommend not trying this at home as it might possibly kill someone from head trauma or brain damage. Instead, try a motion sensor. The Philips Hue Motion Sensor is able to detect if someone is in your home and alert you via smartphone. Priced at only $37.99 at Best Buy, you can save a whopping $2 off the original price. Since the average paint cost at Home Depot is around $28.98 per can and methodical Kevin used two, you might as well save some money and go with the safer, more reliable option.
False Presence

To Kevin's credit, he did have one effective and creative idea at the beginning that was not extremely dangerous to anyone; creating the illusion that people were home. By organizing a system of ropes to move manikins as well as a life-size Michael Jordan cutout mounted on top of a model train, it appeared there were plenty of adults home when the burglars were casing the house. Unfortunately for both parties, this only temporarily deterred the bandits. In reality, confrontation with occupants actually ranks higher as a deterrent for burglars than fear of criminal consequences. So it is fairly likely if the burglars thought someone was home, they wouldn't return. Although Kevin's idea was extremely intelligent and intricate for an 8 year old, there is a much simpler option. With smart light bulbs you are able to control your house's light from your smart home. With the Philips Hue Smart LED bulb, you can connect the lights to your Philips Hue Motion Sensor and further customize your lighting. Priced at $14.99 per bulb at Best Buy, purchasing only a few to put in separate rooms would offer the illusion that people are home. While these bulbs may not be cheap, you could light up your entire house for what it would cost to obtain the manikins required for Kevin's plan.
It's fair to say these burglars broke into the wrong house.
Who would have expected an 8 year old to turn his home into a death trap? The mistake the burglars made was not leaving the second they noticed things were booby-trapped. The mistake Kevin made was not simply calling the police from the start. If you take only one piece of advice from this article, call the police if your home is being burglarized. If you're interested in any of the home security options suggested above, call Protect America and find out what Black Friday deals are being offered. Happy Holidays!